THE SAPPHIRE ISSUE | 2021
Dear Jewelry Friends,
We hope you had a wonderful summer's break! Ours was relaxing, and gave us lots of time for new jewelry ideas to bake. To share these ideas and kick off the fall, we have taken a page out of the back-to-school book with our very own "back-to-Gem-X" issue of The Extra.
Below we are pleased to announce the call for submissions for our Gem X Scholarship and Grant. There is an update on how our community is already thriving on Slack. Be sure not to miss our social diary and pencil into your calendar the events we have coming up this fall. If you would like to sport your club colours at them, we've created a t-shirt and personalized water bottle just for you. To close, we share a recap of our first in-person event of the year in London.
We cannot wait to hear what you think!
Heidi & Lin

GEM X SCHOLARSHIP & GRANT PROGRAM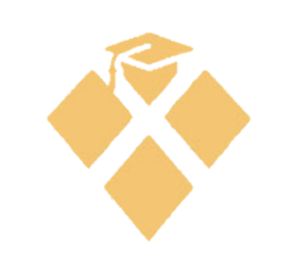 Gem X is dedicated to opening up the world of jewelry to all who are passionate. However, this world can be difficult to access and navigate, and opportunities including educational ones can be expensive and out of reach. The Gem X Scholarship & Grant Program, supported through our Gemflix GoFundMe, aims to help overcome the barriers that prevent many from taking the next steps to further their careers and pursue their jewelry dreams.
Every person has a different set of needs and aspirations. For this reason, each grant recipient will be offered a bespoke award. Awards will include complimentary membership to the club. Additionally, they will be tailored to a recipient's needs with a mentorship package and/or up to $5,000 in financial assistance toward jewelry education or a project to help achieve career ambitions. For example, applicants could request assistance covering the cost of a course with the GIA, covering out of pocket costs related to a research project, finding a mentor, networking to help make a career change, and/or simply covering the cost of membership to Gem X.
To learn more about the grant or to apply, visit: https://bit.ly/gemxscholarshipandgrantapplication. And please help us spread the word on Instagram @gemxclub #gemxscholars.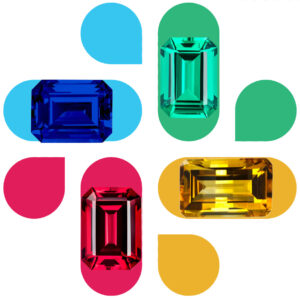 In the spirit of bringing our jewelry community closer together, last week we launched a new, members-only forum on Slack. Gem X members hail from all over the world, and we want to give you an easy and friendly way to chat, collaborate and dish about all things gems n' jewels. Want a friend to go to a gallery opening or gem show with? Check out #nyc-events, #london-events, #lasvegas-shows and the many other Slack rooms we have opened, all devoted to discussing jewelry happenings. Have a maker's mark on an antique jewel you need help identifying?  Post your question in #jewelrydetectives. The #jobs-networking room, which is already filling with exciting opportunities, is dedicated to all career questions and inquiries. Missed the email? Write us at assistant@gemx.club and we'll be happy to help!
Gem X Tie-Dye T-Shirt and Personal Water Bottle
Here by popular demand! We originally created our very own t-shirt and water bottle for a retreat of the Gem X Core. You can see some of our team sporting their new club bling while cooking up fun ideas for our community this year below. Then, we received several requests from members, looking for ways to wear their enthusiasm for Gem X. So, we thought, why not offer them to everyone? We've already mailed personalized water bottles to our Unlimited Members and we'd be happy to send you one as well, along with your very own t-shirt too. 
Orders can be placed by emailing assistant@gemx.club. The cost of the water bottle is $25 and the t-shirt is $30 (plus shipping and handling).
Is there a piece of Gem X swag that you'd love to see? Let us know and we'll add it to the ideas hopper!
WHAT GEM X HAS BEEN UP TO
Gem X London: Berlin Iron Jewelry
Iron certainly felt worth its weight in gold as we gathered for our first event in London of the year several weeks ago. It was an evening all about Berlin iron jewelry, of course. We got to learn about and try on exquisite examples of Berlin iron. There was even a tiara (of course!). Perhaps best of all, we got to catch up with old and new jewelry friends for the first time in a while. A tremendous thank you to our member and gracious host of the evening, Cora Sheibani 🙂
Have more photos from the event? Tag us at @gemxclub or #gemxlondon
Missed one of our Gemflix last month?  Catch these replays now.
Gem X members have access to our entire archive of Gemflix replays. Not a member? Apply here.
ONLINE: TEFAF MEET THE EXPERTS LIVE –
DISCOVERING WEARABLE ART with DIDIER
◆  A Conversation on Artist Jewelry with Didier & Martine Haspeslagh  ◆
THURSDAY | September 9th, 12:00PM EST | 5:00PM BST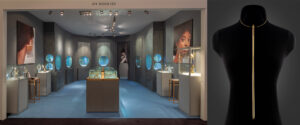 The paintings of Pablo Picasso and Salvador 
Dalí
are familiar to many, but those in-the-know also collect wearable works of art by master artists.  Indeed, Alexander Calder famously said that through his jewelry, he is able to transform its wearer into a "living work of art."  In a special event co-hosted with TEFAF Online, we invite you to journey into the fascinating world of artist jewelry.  Our expert guides will be Didier and Martine Haspeslagh (@didierltd), who devote their lives to sourcing, researching and curating the best examples of modern, wearable art.
ONLINE: LONDON'S LOST JEWELS – 
THE CHEAPSIDE HOARD
◆  A Conversation with Hazel Forsyth, curator at the Museum of London  ◆
WEDNESDAY | October 6th, 5:00PM EST | 10:00PM BST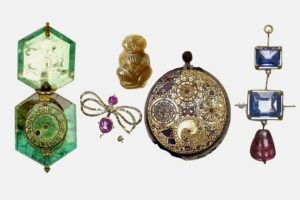 In 1912, laborers on a building sire in Cheapside in the City of London unearthed a great trove of gemstones and jewels which has lain undisturbed for some 300 years. Known and celebrated as the Cheapside Hoard, it is still the largest known cache of its kind in the world. Join us as Hazel Forsyth, curator at the Museum of London who oversaw the acquisition of the Cheapside Hoard, tell us its story.  
INVITE COMING SOON
NEW YORK: A VISIT TO JUDY GEIB'S STUDIO
◆  A Private Event for Gem X Members  ◆
SATURDAY | September 4th, 11:00AM EST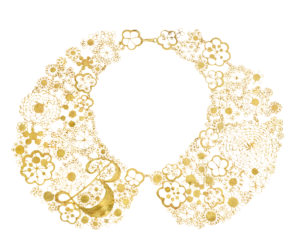 Judy Geib is "a female Indiana Jones, traveling the world in search of the perfect gemstone," describes The Adventurine Founder, Marion Fasel.  Get your adventure fedoras on and join us for a city outing to visit Judy Geib in her private jewelry studio.  Housed in a converted factory along the border of Williamsburg and Bushwick, Judy's studio is sprinkled with gemstones, metals and among other treasured tools that help  her hand-forged jewelry magic come to life.  Behold this masterpiece necklace above, a dazzling Peter Pan collar with a monogram stitched in gold.  And now, Judy has graciously offered to bring Gem X into her creative wonderland.
LONDON: A PRIVATE TOUR OF ONE OF THE MOST EXCLUSIVE JEWELRY SALONS IN LONDON
◆  A Private Event for Gem X Core and Unlimited Members  ◆

TUESDAY | September 14th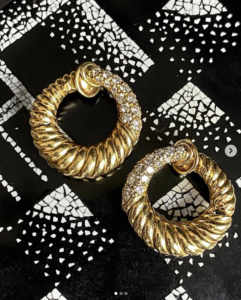 Take a tour of the phenomenal jewelry collection of one of the most exclusive salons in London. The tour will take place in late afternoon, followed by dinner. 
PRIVATE INVITATION ONLY
LONDON: A LIFE IN CHARMS WITH DESIGNER ANNOUSHKA DUCAS AND JOURNALIST LUCIA VAN DER POST
◆  A Private Event for Gem X Members  ◆
WEDNESDAY | September 15th, 6:30PM BST in Chelsea, London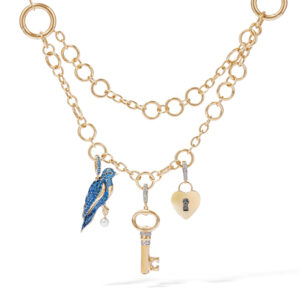 Chances are that you have charms in your jewelry box. From ancient times through today, people have collected charms and used them to express identity, record life stories, evoke memories and create family heirlooms. Join us for an evening of charms and refreshments with two incredible women, Annoushka Ducas MBE, founder of jewelry brand Annoushka, and renowned luxury editor and writer Lucia van der Post, founding editor of one of our favorite magazines, the FT's How To Spend It. We'll chat about the history of charms and their mesmerizing appeal, and discuss the moments that have shaped these two womens' lives and how they've captured them with charms.
LONDON: RINGS – A WORLD OF INVENTION, PRESENTED BY THE GOLDSMITH'S FAIR
◆  A Private Event for Gem X Members   ◆
WEDNESDAY | September 29th, 1:00PM EST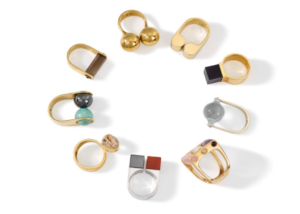 Join us for a discussion with Goldsmiths' Company Curators Dr. Dora Thornton and Dr. Frances Parton as they discuss the exquisite, unique and inimitable rings from this year's Fair exhibition 'Rings: A World of Invention'. The lunchtime talk will cover the landmark 1961 International Exhibition of Modern Jewellery held at Goldsmiths' Hall 60 years ago, as well as unique rings from the exhibition and the stories behind them. There will also be a private handling session of rings from the Company's vault, which will give us the exclusive opportunity to gain more context for the exhibition, and we will have the opportunity to walk through the fair together afterwards. Additionally, stay tuned for details of a private evening tour of the Fair as well.
RSVP COMING SOON
Looking for some jewelry activities? Don't forget to check out our Social Diary!
BEAUTIFUL CREATURES and THE ALLISON & ROBERTO MIGNONE HALLS OF GEMS AND MINERALS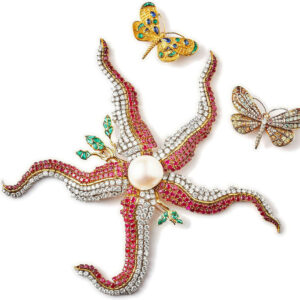 Like a butterfly emerging from its chrysalis, New Yorkers and gem lovers around the globe have been patiently waiting for the grand unveiling of the new Allison & Roberto Mignone Halls of Gems and Minerals at The American Museum of Natural History (AMNH). Replacing …
SIMPLY BRILLIANT: ARTIST-JEWELERS OF THE 1960s AND 1970s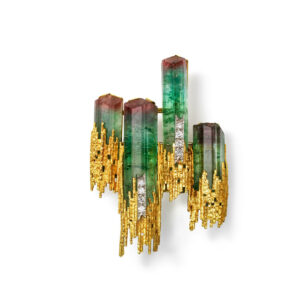 The '60s and '70s were decades of cultural transformation. Individuality and nonconformity took center stage, which translated into boundless inspiration for artists and jewelers. And one private collector has amassed an impressive collection of jewelry depicting …
That's it for this month!  For questions and comments, please drop us a note here.