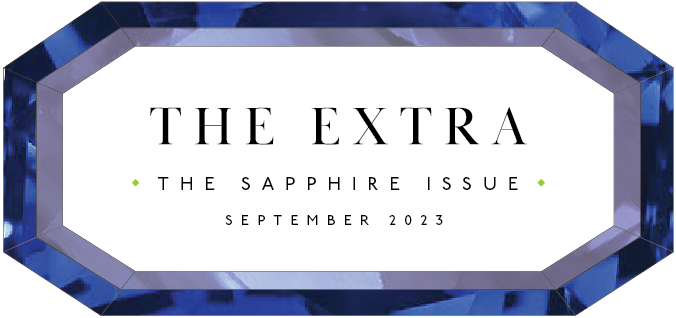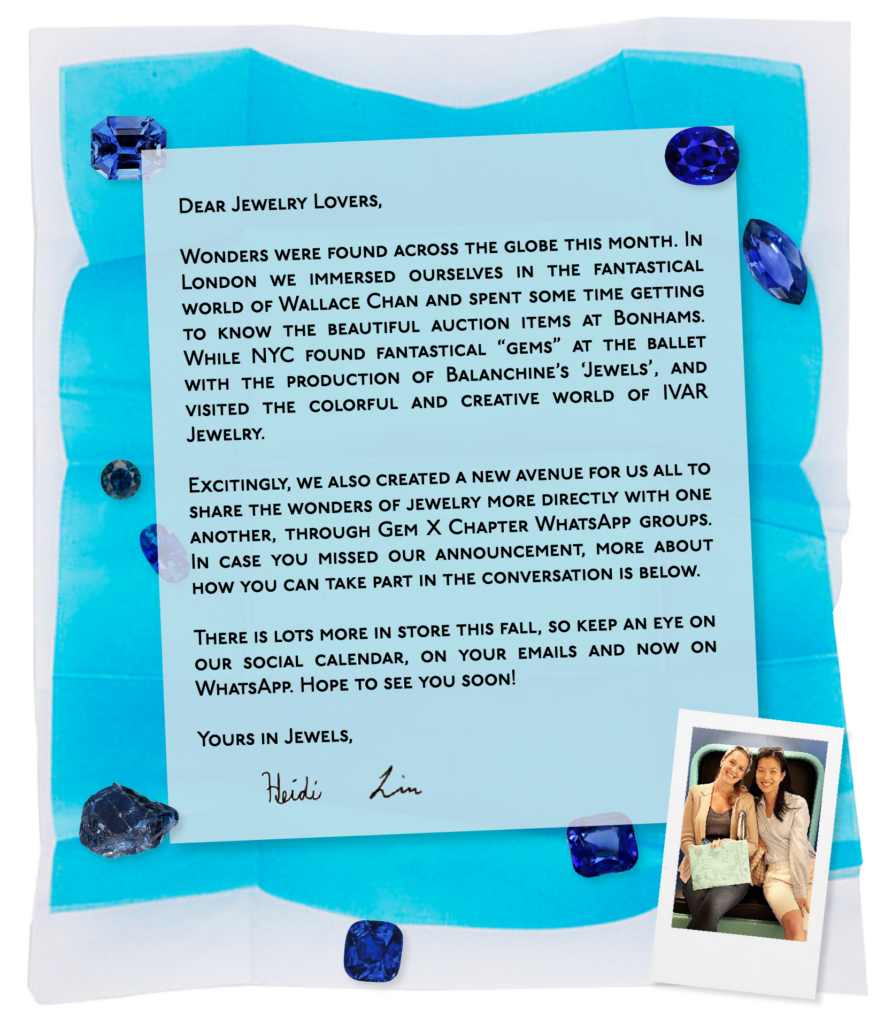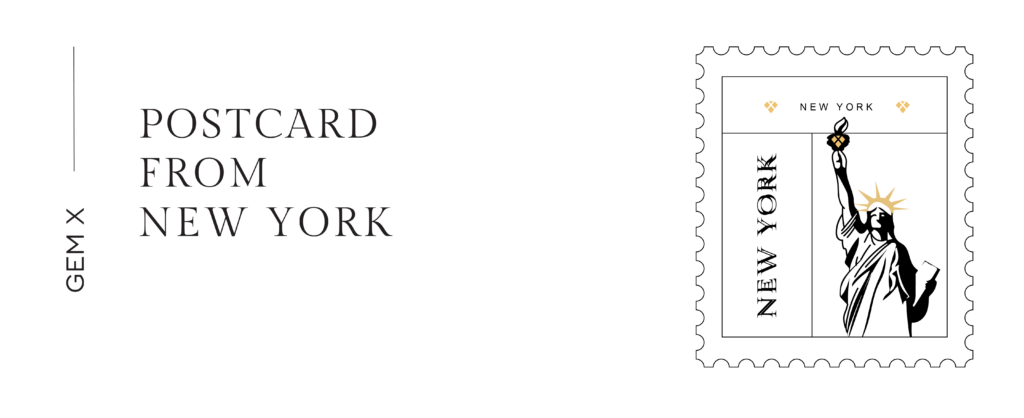 Stepping into IVAR Jewelry in NYC transported us into a world of Indian culture, joyful colors and creative dreams come true. Founder Ritika Ravi demonstrated enamel coloring, an ancient practice, known as Meenakari, brought to India by the Mughals. Her finished jewels are an inventive blend of traditional Indian craftsmanship with a contemporary design perspective. We were thrilled for the chance to try some on, like the Charu ring collection that she lovingly named after her mother.  It was a rainy Sunday afternoon and we spent it in beautiful company, at the NYC Ballet finale performance of Balanchine's "Jewels." Each of the three dazzling movements was costumed in a different jewel color. Emeralds moved at Fauré's romantic pace, while Rubies pulsed to Stravinsky's jazz- like a "shot of espresso" according to Josh Barone. The performance culminated with Tschaikovsky, paying homage to Balanchine's Russian heritage. We loved every second of the performance and ogled over the details in the dazzling costume design by Mme. Karinska.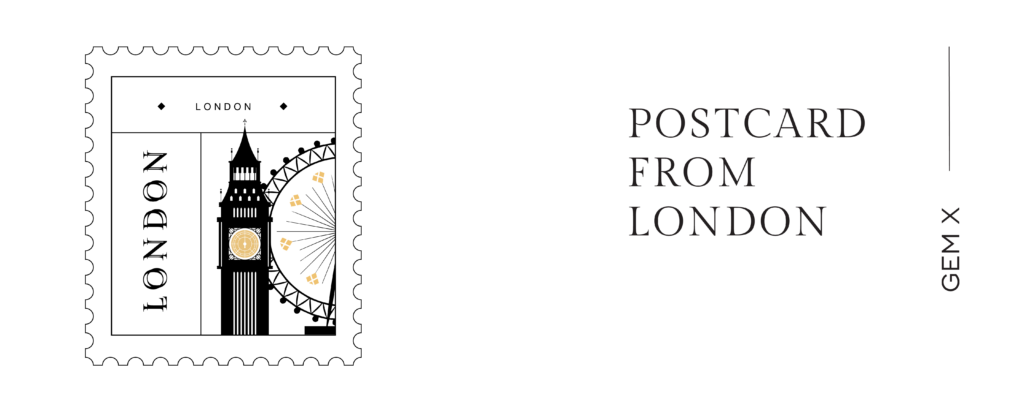 "We are all standing on the shoulders of giants." Gem X Members in London were privileged to view the Wallace Chan exhibition at Christies. We were led by Mei Y Giam, Christie's Private Sales Director in Jewellery, who gave us a wonderful tour around the exhibition full of anecdotes and history of Mr. Chan's life. The exhibition titled, "The Wheel of Time", followed Chan's expansive career and creative process, the idea of standing on giants that connect the past and present to come full circle to create the future. 150 jewelry pieces of butterfly brooches, brightly colored sculptured rings and necklaces were accompanied by six titanium sculptures, some of which have never been seen before to the public. We were honored to have Mr. Chan join us at the end of the tour to speak with our group. We also got the chance to see a few highlights from Bonhams Jewels Sale up close before they hit the auction block. We spoke with Bonhams UK Jewellery Director, Emily Barber, about the special pieces being sold at auction. We were delighted to see two Gem-set Turtle brooches, a Rock Crystal "Pool of Light" Parure, and a playful Dog Brooch by Boucheron.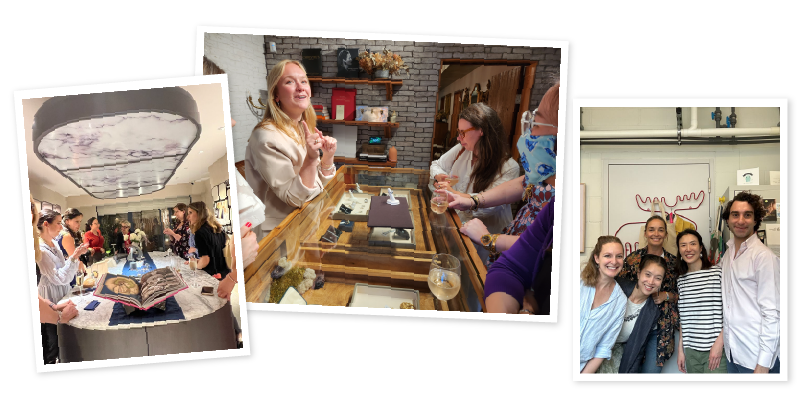 We  launched a new way to connect with Gem X in your area. Our Gem X Chapter WhatsApp groups are here for you to connect, plan, and share with other members. If you are a Gem X member and want to join in the discussion, email us at assistant@gemx.club to receive access.
Not a Gem X Member? We would love to have you join us on our exclusive adventures. Start your application here.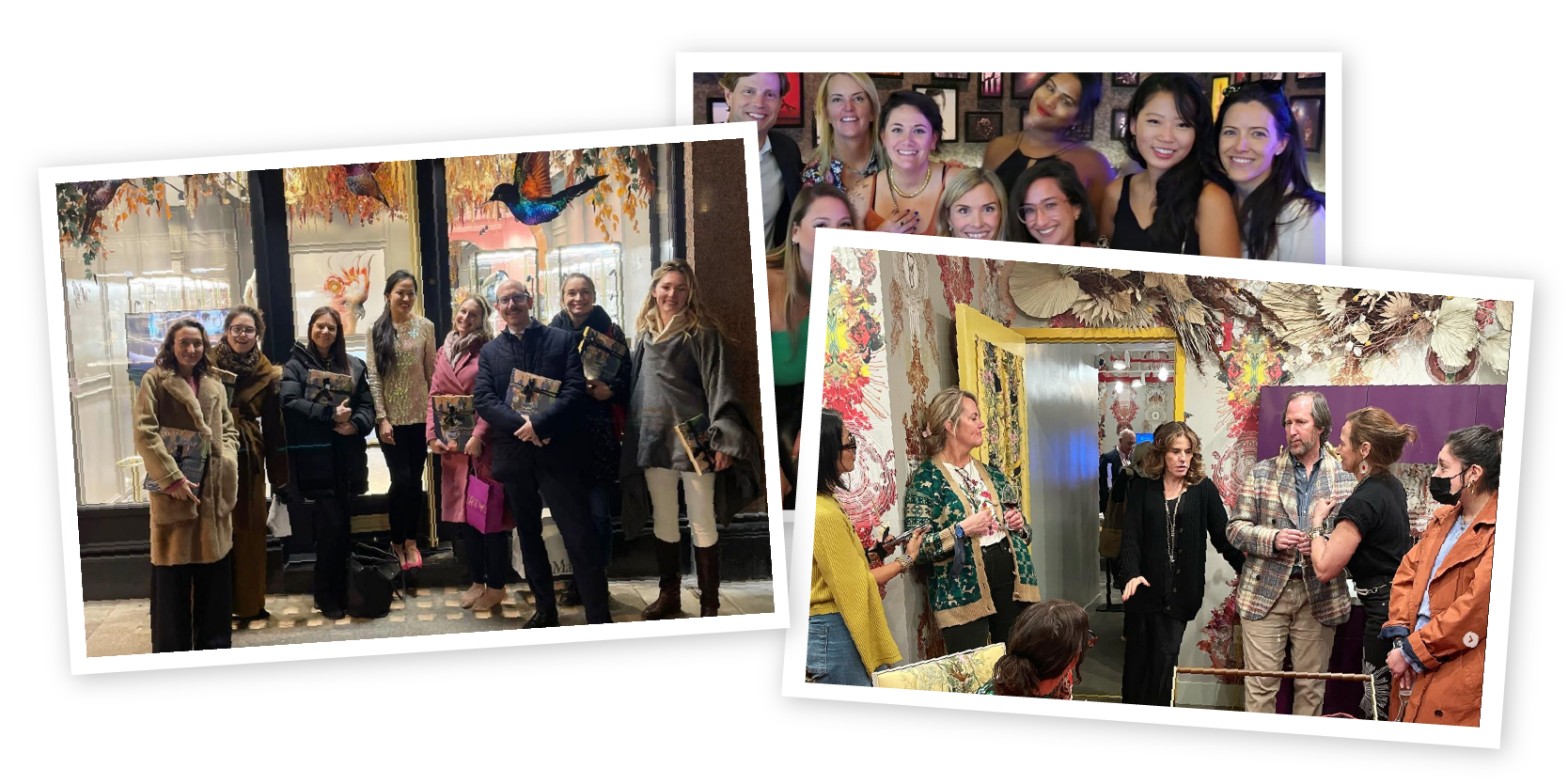 We are thrilled to welcome our new members this month.
Annamarie K. Florence, Italy | Cameron S.  Brooklyn, NY |  Gigi M. London, UK | Lisa L. New York City, NY | Stacy M.  New York City, NY | Susannah K. London, UK | Urte L. London, UK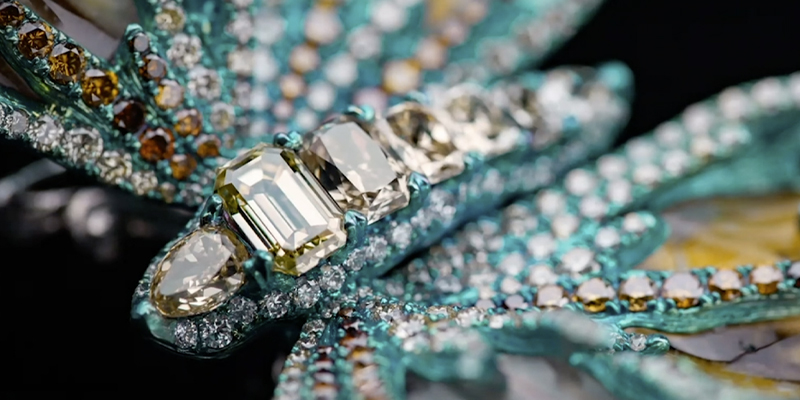 In the league of 'super jewelers,' Wallace Chan and his fantastical creations have achieved something of a legend. From his bejeweled butterflies, to the lyrical names for his pieces, to the signature "Wallace Chan" gemstone cut, Mr. Chan is a jewellery artist who pushes the boundaries of creativity and innovation. We enjoyed an intimate conversation with Mr. Chan, filmed from his studio in Hong Kong, to learn more about his humble beginnings, philosophical inspirations and inventive approach to design. 

If you missed our event with Wallace Chan in London, we recommend watching: THE PHILOSOPHY, INSPIRATION AND INNOVATION BEHIND WALLACE CHAN.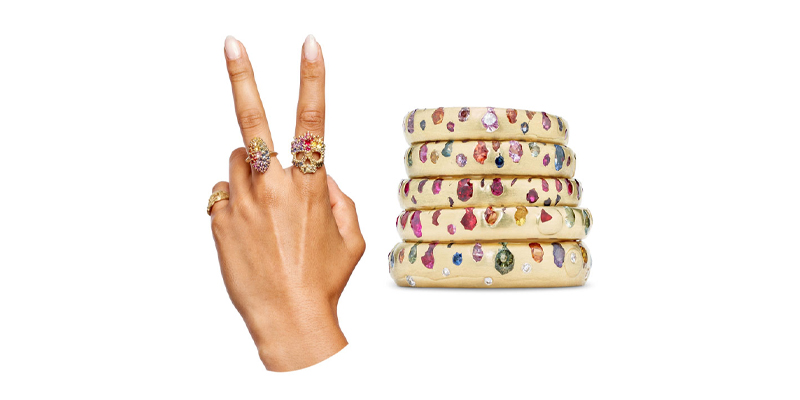 London | Saturday, October 7th
A BEJEWELLED HOMECOMING WITH POLLY WALES We hope you join us for a dazzling afternoon as we welcome the British jewellery designer Polly Wales back to London with a private conversation about her creative process, cocktails and the opportunity to try on her "cast-not-set" jewellery. RSVP HERE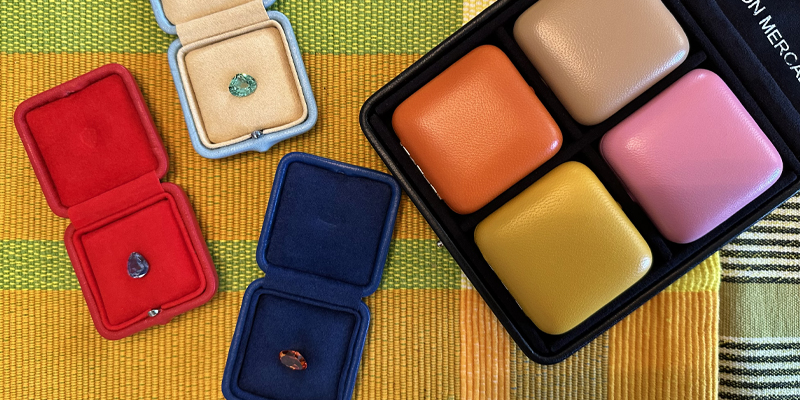 NYC | Tuesday, October 10th

SPARKLY & SWEET: A GEM PREVIEW WITH JEAN-NOEL SONI Join Gem X as we welcome Jean-Noel to New York City, bringing a bag full of new treasures. "For NYC, I've put together a curation of jewels that will show the connection between organic geometry and the individuality of each crystal. Drawing inspiration from Art Nouveau ideals, this collection pays homage to natural form and movement". JOIN THE WAITLIST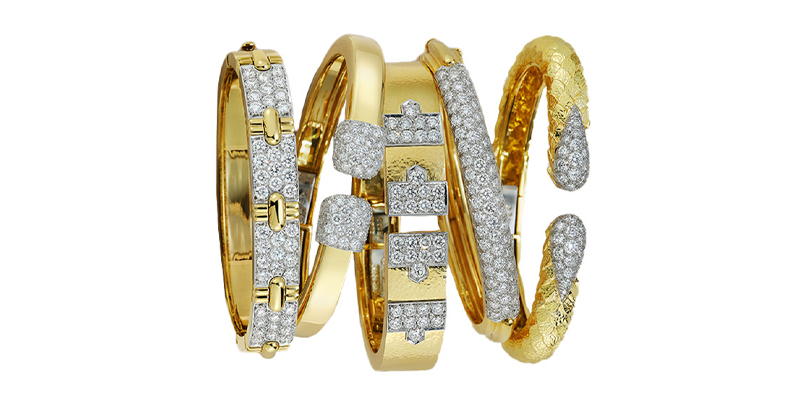 NYC | Thursday, October 12th

HERITAGE JEWELS WITH BROKEN ENGLISH JEWELRY You are invited to step into the world of Broken English for a special evening on heritage jewels with David Webb's Head of Archives & Brand Heritage and Gem X Core member, Levi Higgs.  Over drinks and light bites, Laura and Levi will guide us through a discussion around curating, collecting, and craftsmanship, with a spotlight on the David Webb jewels in the showroom. RSVP HERE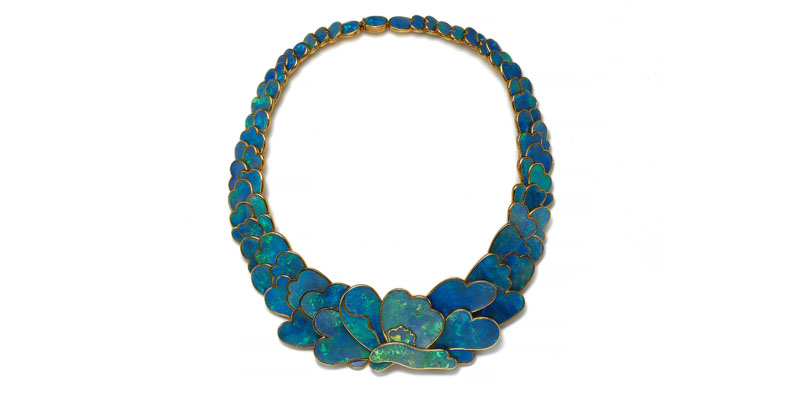 Gemflix | Wednesday, October 25th
ANGELA CUMMINGS: EASY, CHIC & SIMPLE GOOD TASTE From 1967 until her resignation in 1982, Angela Cummings gathered a cult following for her colorful, sculptural jewels which combined unusual materials with inspiration from the natural world (see image at left). We will hear from Annamarie Sandecki, former Director of The Tiffany Archives, for an in-depth examination of Cummings' work and creations. RSVP HERE
NYC | Monday, October 30th

CAVIAR & CARATS AT THE BRIONY RAYMOND ATELIER We are delighted to welcome you to step inside the Madison Avenue atelier of private jeweler Briony Raymond.  It will be an evening immersed in her exquisite collection of vintage and handcrafted jewels from her namesake jewelry line. Come and indulge in Briony's favorite caviar as you explore her cherished jewelry pieces during this exclusive atelier experience. RSVP HERE