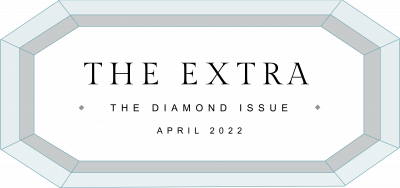 Dear Jewelry Friends,
April is known for its showers and in our case, luckily, this meant showers of gems! From the Winter Show on Madison Avenue, where Core Members Levi Higgs (who created the stunning bejeweled window displays) and Christine Cheng (who was was not letting the actual rainy weather get her down with an incredible Art Deco tiara) gave us a tour, to LA, where we gathered for a breakfast hosted by Heritage Auctions Beverly Hills to view their fantastic Spring Fine Jewelry Signature Sale, jewels flowed and blossomed all month long. For a swoon-worthy example, scroll down for an exquisite bouquet by JAR.
On a more serious note, we celebrated Earth Day and were reminded of the great importance of protecting this beautiful planet we have the privilege of living on. Our first Gemflix this month included a viewing and discussion of the documentary 'River of Gold' which follows the journey of two war journalists and their discovery of the unbelievable destruction of Amazonian rainforest to enable illegal gold mining. This is one reason we are so very excited about our event coming up with fellow member and responsible mining expert Stuart Pool of Nineteen48, who will host a discussion about ethical gemstones and treat us to a miniature ethical gem fair in London.  
The month saw other exciting blossomings for our scholars. Kwabena Ampadu and Briyana Rainer of Ampadu Studios received the first shipment of their new collection. If you live close to New York City, be sure to visit them at Together We Thrive in Bed-Stuy on May 14th to see the pieces in person. Metalsmith Yeena Yoon showed some of her beautiful creations at the Goldsmith's Centre Trove event. 
Read on for more of our spring news. Also, a reminder that if you are looking to connect with other members, including at the many jewelry events coming up like GemGenève and TEFAF, check out our Slack Channel (details below) and hope to see you soon!  
Yours in jewels,    

Heidi & Lin

This month our scholars Kwabena Ampadu and Briyana Rainer of 
Ampadu Studios
 received the first shipment of an exciting new collection funded by the Gem X Scholarship. The duo creates jewels for braids and afro-textured hair, "made with your crown in mind", and their new lux beads feature the star motif. We love their work and also what they're achieving. Often, braids are decorated with disposable plastic beads. This new collection brings together hair jewelry and design to offer an accessory that will, more sustainably, be used over and over again. Their new collection will be available on their 
website
 in mid-May and if you want to see them and meet the founders in person, Ampadu Studios will be at the 
Together We Thrive
 event in Bed-Stuy, NYC on May 14th.
Jeweller Yeena Yoon was invited to show at Trove, at the Goldsmith's Centre, the other week as one of a team of ten of London's most exciting female jewellery designers. Heidi had the opportunity to visit the event to see Yeena's most recent work, and snap some photos. Looking forward, Yeena will be traveling out to Italy in June to complete a course with the genius wirework artist Giovanni Corvaja, funded by the Gem X Scholarship. If you didn't have the chance to visit Trove, Yeena will be showing her new collection, including all she will have learnt from Giovanni, at The Goldsmiths' Fair at the end of September.