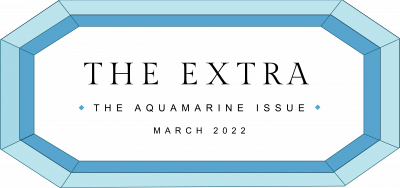 Dear Jewelry Friends,
If we were asked to think of one word to describe March at Gem X, it would be: gemstones. 
On Gemflix, we stepped into the fascinating universe of the lapidary with Justin K. Prim. Justin, who has studied with master cutters around the world, shared his wisdom and even a demonstration of the cutting process. Our guest host was Cora Sheibani, designer and member of the core, who wonderfully brought in the perspective of the jeweler. After, our member Stephanie Carendi commented, "I love to think of a gem now as carrying the preferences and decisions of its cutter and context and aim." We could not agree more.
In New York, gemstones took center stage with Top Notch Faceting's Jean-Noel Soni, who gave us a peek into his latest creations, like mint garnets that burst with springtime colors. Members in London met for a joyful studio tour with the wonderful Joy Bonfield-Combara (Joy BC), and some lucky LA'ers had one wish come true with a visit to see Aladdin's lamp and other wonders of the Disney Archive. Core member Levi Higgs and member M.J. Rose led an exciting conclusion of our first ever book club and our Gem X Scholar Jenny House of Origin 31 celebrated an amazing recognition.
Read on for more gems like these and a look at what's coming up next!
Yours in jewels,    

Heidi & Lin

Congratulations to Jenny House, founder of Origin 31, for winning a Bronze award in the Goldsmiths Craftsmanship & Design Awards. Jenny is one of our inaugural scholars and she used her funds to purchase CAD software, which has revolutionized her jewelry design process and helped her create a winning design for the awards. Learn more about it, in her words:
Whilst I was CAD trained I hadn't been able to use the software for over 10 years. I was a little rusty! However, after spending a long week doing tutorials to refresh my memory, I had one day to create my design on CAD to submit to the prestigious Goldsmiths' Craftsmanship And Design Awards for the "Repurposing Jewelry" brief. The brief was:
'A client who wants to gift their son a special item of jewelry to wish him safe travels and great adventure as he embarks upon 6 months of traveling across South East Asia. He has just completed university where he studied Marine Biology, an intriguing field to which he is very committed and passionate. He had to postpone his exciting travel plans due to the pandemic but is now excited and raring to go! The client wishes to use the materials from their grandparents' wedding bands that together contain: 11grams of 18ct white gold, and 7 brilliant cut 1.5mm diameter sapphires and 7 brilliant cut 1.5mm emeralds. The client's son is comfortable wearing jewelry (cuffs, rings, pendant/necklace, earring/s)'
My concept is called 'Home and Away' and based around a Chinese good luck coin. It features details of his home, including the Union Jack Flag and a compass pointing north west to his home, and on the reverse a map of the area which he will be traveling in along with the compass pointing south east. As homage to his passion for marine life, sapphires and emeralds create a wave motif. 
Check out Jenny's other work on her Instagram @origin31